Performances
Providing enterta
inment to a venue near you.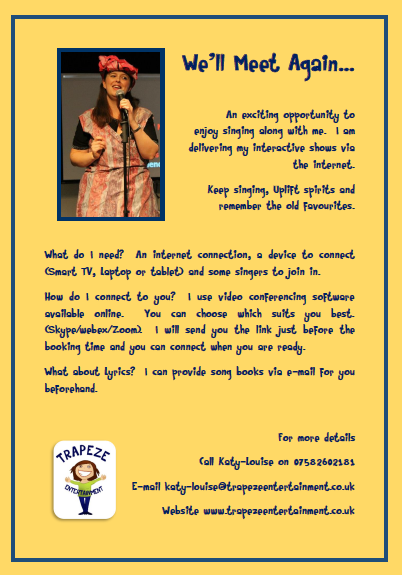 Performance enquiries
Interested in booking an interactive sing-a-long performance?  Look below for the details of show era's.  Show's typically run for 1 hour, however i have longer versions to include an interval as well as bespoke sing-a-longs designed specially for that special celebration.  Client bookings have included care homes, over 60's clubs, special wedding anniversaries and birthdays.  Get in touch for more information. 
"Night of Nostalgia"  
Remember life in the 1940's with wartime favourites from Vera Lynn, Flannagan and Allen, George Formby and many others.
"The Romantic 40's"  
Fall in love with old songs like "You are my sunshine" and "The only girl in the world".  Enjoy the romance, courting and experience the way that weddings used to be in the 1940's. 
"Seaside Special show"
Have fun at the beach with favourites like "I do like to be beside the seaside", "Happy Wanderer", "Moonlight Bay" and of course "I've got a lovely bunch of coconuts".  
"Sing-a-long to the 60's"
Get groovy and travel back to the swinging 60's with hits from the Beatles, Dusty Springfield, Petula Clark and other favourites.  
"The great big musical sing-a-long"
Enjoy the old musicals by tapping your feet to 42nd Street, hug your honey bun to south Pacific and dance away with Calamity Jane
"Fun in the 50's"
Remember the start of Rock and roll with hits from Elvis, Buddy Holly and other great artists from the 1950's
"Christmas Singsong"
A selection of Christmas classics for that special time of year.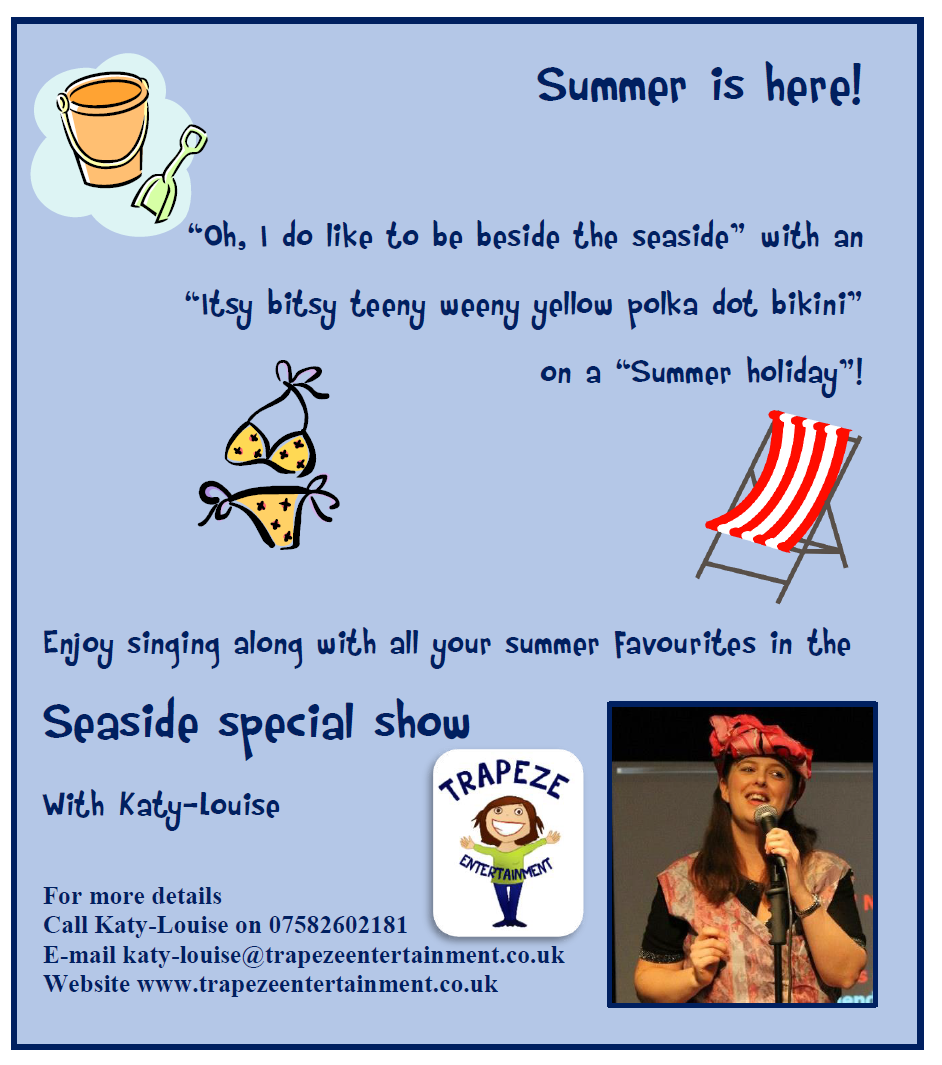 Past performances
I am a singer and actor so specialise in interactive performances including nostalgia shows. I have produced and performed in the productions below. I also perform my own cabaret spot.

Audience reviews included
"Loved every bit of the show - selection of songs and above all Katy-Louise's voice and personality"
"Enjoyed the interaction and the fact I can sing along"
"Katy-Louise's brightness and warmth.  Friendly, cheerful company"
"Katy-Louise is very good at creating an atmosphere"
Murder Mysteries
I am a performer in murder mysteries and provided the Halloween murder mystery and entertainment at the Encore Ramada hotel in Inverness in 2013.  
Recordings
Here I am singing some medleys recorded at Carlton Studio's in Glasgow.  http://katylouisep.wix.com/katy-louisepritchett#!singing-/c1ul2